Welcome to Infinity Bay Spa & Beach Resort
Luxury & Location On West Bay Beach, Roatán
Infinity Bay Spa & Beach Resort offers luxurious accommodations and amenities on Roatán's award-winning West Bay Beach, always rated as one of the top beaches in the world. Our upscale beachfront property features a 300-foot-long infinity pool, stretching down to the white sandy beach and turquoise water. Bordering the pool are swaying palms and 147 spacious Spanish-style villas, all boasting balconies/patios with views of the ocean, pool or exotic gardens.
We understand that the travel marketplace has changed a great deal this year. It's our goal to deliver an experience of greater flexibility, rebuilding confidence in your travel planning. Complete disinfection will take place between stays. All public areas throughout the property including all high-touch areas are being sanitized much more frequently. Our focus is deep cleaning on daily basis and sanitizing stations will available throughout the property.
Flexibility with freedom is critical and, this is why we are implementing 3 different housekeeping options during your stay. This will maximize your experience as it's customized to your desire.
Baseline service – no service only replenishment
Limited service – every 3-5 days
Traditional service - daily full service
Infinity Bay is defined by providing worry-free vacations, regardless if you are planning your destination wedding, having a corporate event, or indulging in complete relaxation. For guests seeking the comfort and convenience of an all-inclusive holiday, we have packages for you to choose from.
Underwater adventures abound with the world's second largest barrier reef less than 50-feet from our shore, whether you are diving or snorkeling. When you're in need of refreshment out of the water, our famous Palapa Beach bar and Grill rated #1 in Trip Advisor and in the top 10% of the world, combines first class service and exceptional casual dining experience.
Whether you are looking for an action-packed vacation or a relaxing, romantic getaway, the options for unforgettable stays are infinite.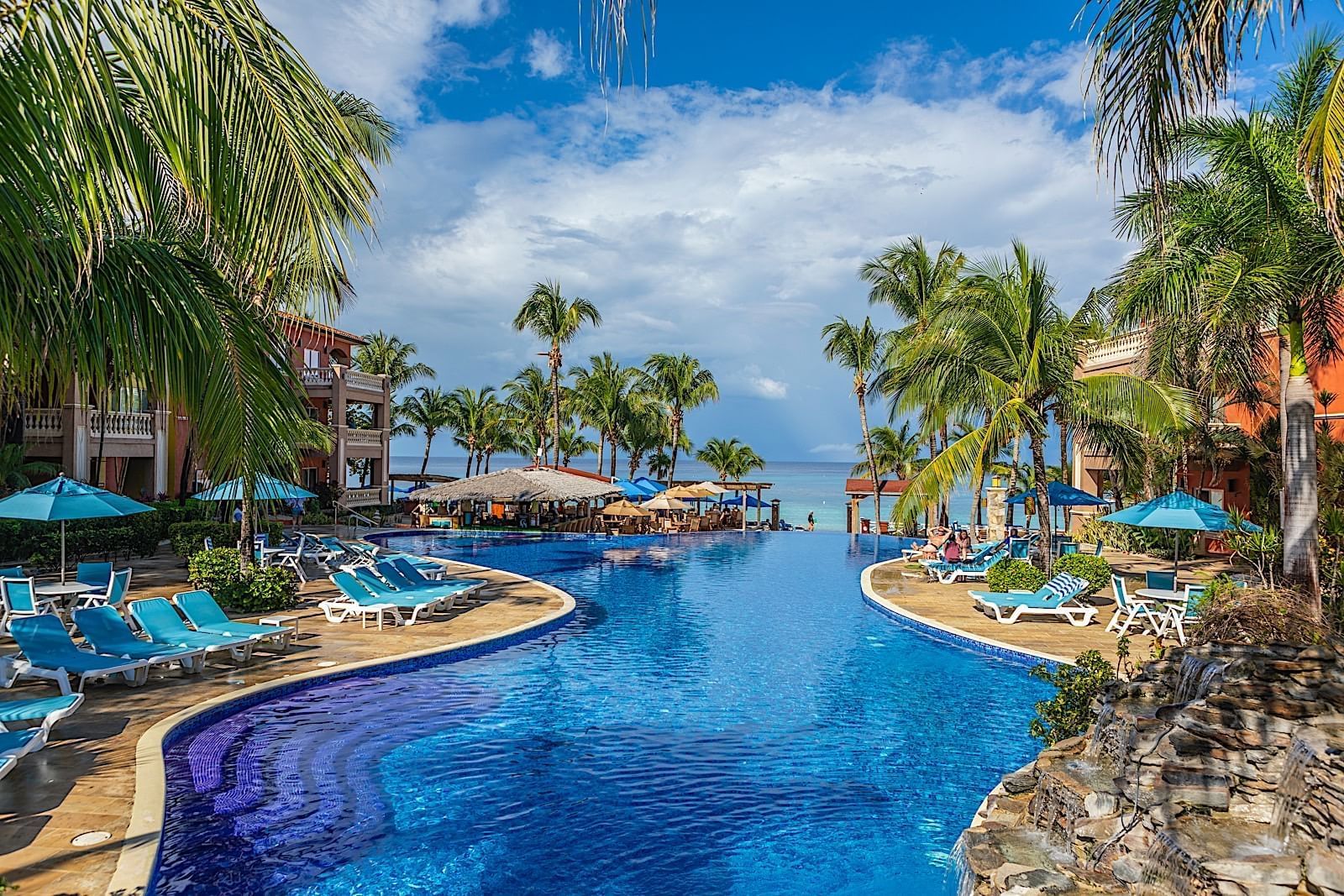 Infinity Wedding and Events
A Wedding to Remember
We're committed to your dreams coming true, with professionals who are dedicated to getting every last detail right. This experience also means that we're on top of the latest trends in cuisine and décor. Our team of experts will bring your wedding ideas to life.
We know that a successful meeting doesn't happen by accident. It takes planning and coordination to deliver a memorable event. We are growing and innovating our meeting services in ways that have changed the industry to provide a world class event. Delivering the impact you want and the features you need to bring people, purpose and results together.
Our Social and Community Responsibility
At Infinity Bay Spa & Beach Resort we have a clear commitment to the local communities in Roatan and to environmental protection. We strive to exceed the expectations of our guests, owners and employees.
We are proud sponsors and supporters of various organizations such as Warfighter Scuba, Clinica Esperanza, Animal Rescue Groups, local sports teams, and we are a Gold Sponsor of Roatan Marine Park.
Infinity Bay operates with a 100% sustained sewage treatment facility protecting the surrounding environment including the marine and reef life through the reuse of every drop of water within the resort.
Infinity Bay has over 2,000,000 gallons of rainwater containment in the form of recharging ponds, cisterns and below ground dry wells (featuring unique earth friendly designs). In one day we can put 100,000 gallons of sweet water back into the aquifer. We have zero discharge of storm water run-off and therefore we don't tax the storm water infrastructure of West Bay beach area.