Jungle Canopy Zipline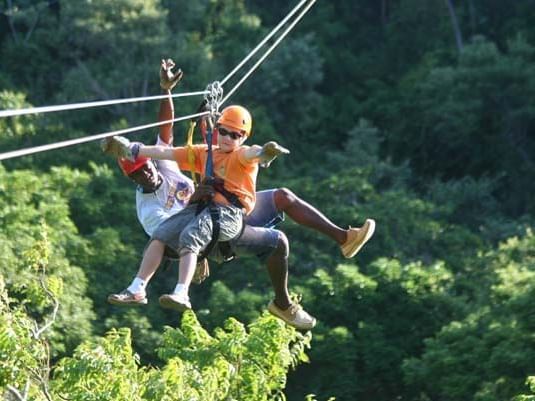 Transportation included
Length:
45 minutes
Amenities:
Lockers

Min/Max. Capacity
1-20 Guests
2 days advanced booking
What to bring:
Comfortable clothing, sturdy footwear, hat, sunglasses, sunscreen and bug spray.
Additional Information:
No pregnant women or children under 6.
One of Roatán's most popular activities, the canopy tour is composed of platforms and steel suspension cables strung at various heights between the trees. They offer visitors a unique means of accessing the beautiful and remote areas of Roatán as well as breathtaking Caribbean views.
The canopy uses only the best safety approved gear and puts your welfare first with highly trained and experienced staff who personally assist you through the zip lines. Zip through lush Roatán tropical island vegetation filled with exotic wildlife and beautiful island palms, fruit and nut trees in addition to the famous Gumbalimba trees. From the start on the launch platform to the last swinging bridge, a new world will unfold as you glide through this natural ecosystem."